Our 3 Step Process:
1) LEARN
Level up your 3D Print
Design skills with Blender
We have the best 3D Print Design Workflows for Blender. Let us help you dive in and get started with our 4 Week Beginner Program.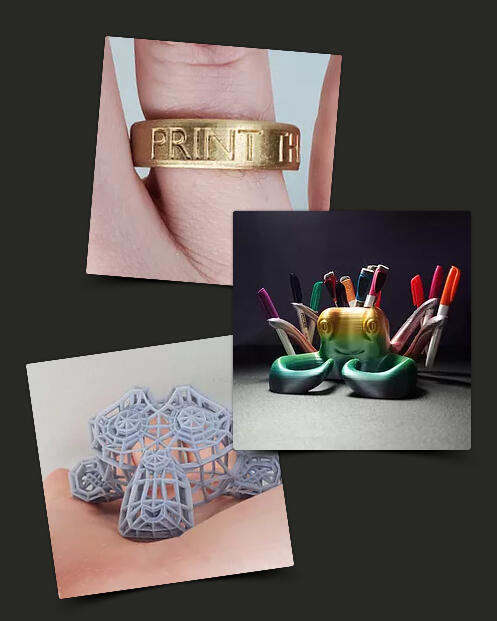 Use Our Suggested Coursework To Complete in 4 Weeks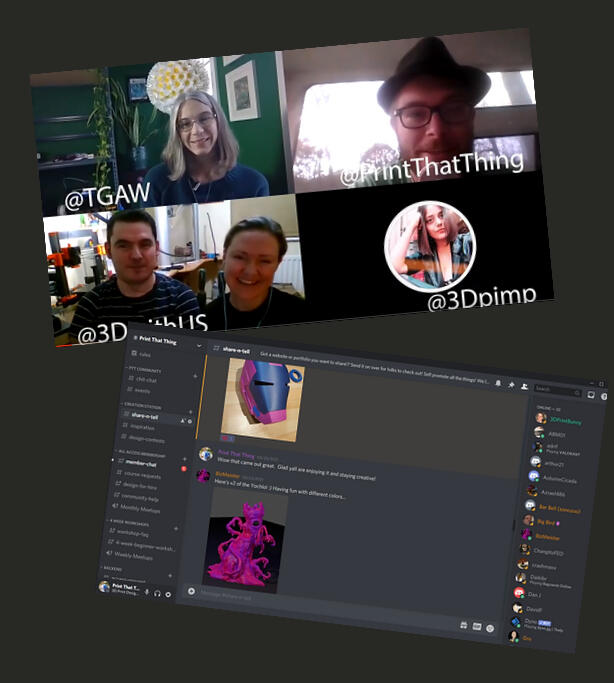 ---
2) CONNECT
Join a community of designers eager to support you
You'll find like-minded designers, artists, and entrepreneurs excited to learn and grow with you.
WE CONNECT
3D Print Entreprenuers
GET SUPPORT: All Discord Members have access to the PTT team for course support. They also have access to the Designer Discord where they can get help from the community on personal projects.

HAVE YOUR VOICE HEARD: When you learn with Print That Thing you'll be able to give your input on what courses, guests, and resources we build next.
3) TRANSFORM
Get results that last a lifetime.
If you want it you can achieve it. We're here to help you transform into a 3D Print Entrepreneur in all aspects of the journey.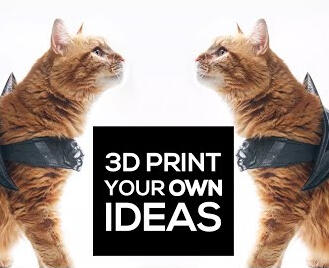 ""It's literally a Fast Lane to Learning 3D Printing. No side tracking here.... straight to the point. You learn Everything from Design to the rules of 3D Printers.""
@3Dprintingfuture, 4-Week Beginner Workshop Student
---
FREQUENTLY ASKED QUESTIONS
Do I need a 3D Printer for these classes?
No! These courses are focused on designing for 3D printing. While we will touch on concepts necessary to get your design on the print bed, we will not be focusing on the practical gear or technical side of the process unless specifically stated otherwise in the courses.
---
Blender for 3D Print Design? Shouldn't I be learning something else?
Blender is an incredible open-source software that will get you started on your design journey.It's a Sub-D modeling software that is PRIME for organic modeling. We truly believe that learning the basics of 3D design with Blender lowers the barrier to entry as well as introduces you to the amazing community.Once you learn blender you will be able dive into any other 3D software with less of a learning curve.
---
Will someone be there to help me if I get stuck?
Yes! Our instructors are here to help you when you get stuck. Leaving comments on the udemy course you're struggling with is the best way to get help from the instructors. You can also ask in the community discord to get assistance from other students.
---
When do the classes begin?
From the moment you buy one of our courses on Udemy you have access to your lessons right away. This allows you to move at your own pace and ask questions as you need to.
---
How long will I be able to have access to the courses?
Udemy has a Lifetime Access agreement for all courses they provide. You can read more about it on the Lifetime Access FAQ.
---
What is your return policy?
Because we sell our courses on Udemy you'll be subject to their Refund Policy. We do not directly handle returns or cancellations.
---
---
---
SUGGESTED COURSES
ALL COURSES
Our courses are built to be versatile. You can follow along with our suggested curriculum. Or you can build your own lesson plan by picking and choosing what skills you need now.
---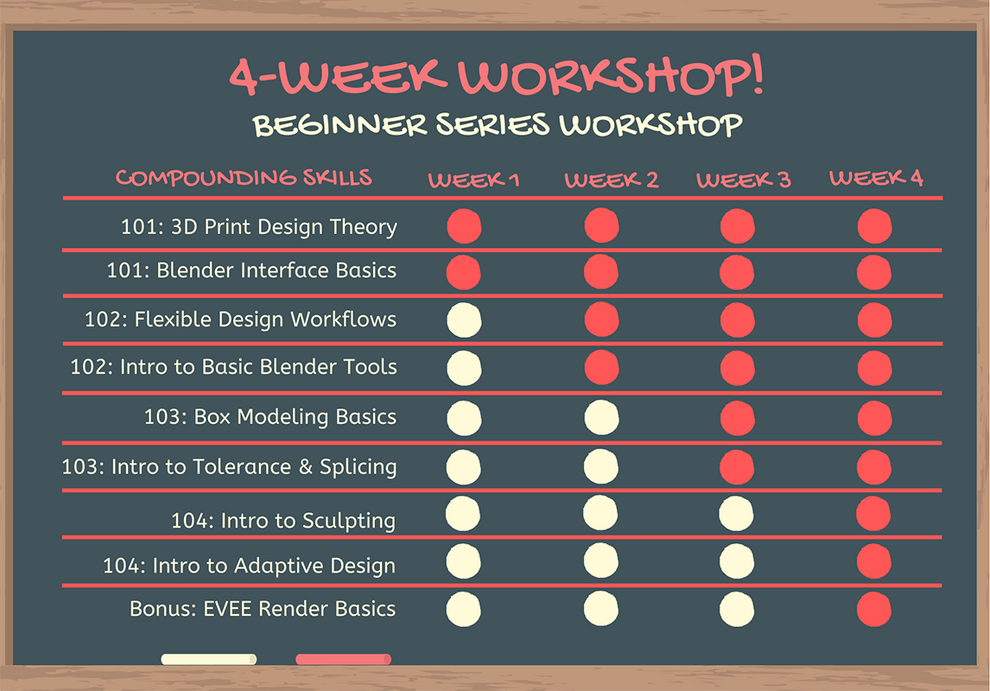 Suggested Curriculum
NEW TO BLENDER?
Our Beginner Curriculum includes a 4-Step Series of courses. Each series compounds on the one that came before it. This allows you to get comfortable in the software, retain information, and practice as you learn.We recommend this curriculum for all first-time Blender users.
Design a Pet Product
In this course, we'll be tackling a complex product design of a dog-inspired pet product. You'll learn the steps to approaching an original product design—everything from sketching ideas, using reference images, how manipulating Blender's bolt factory, and more.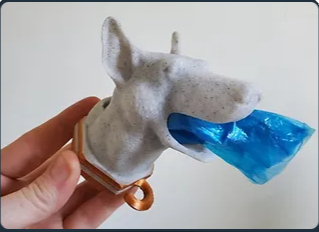 REVIEWS
We love helping people transform into 3D print designers. Hear what our students have to say about our process.
Mike Russo
Great start J-Wall and strong finish! Worth every penny."Loved week 1, all information I had to find in several videos online before finding your workshop. Keep spreading the love with blender for 3D printing. Week 2 even better, if I've learned this much in just 2 weeks, can't wait to dive into the next 2. Week 3 continues to live up to the previous weeks of easy to follow tutorials and very exciting projects. I'm looking forward to and disappointed to start the last week of this beginner series. Well here we are, at the end of week 4. This 4 week class was amazing, I learned so much in a short amount of time and the teacher is just great, very patient and easily accessible. Look forward to more training videos and live podcast with you guys! Sad to see it end for me but excited to see it's future for you. Keep living the dream."
Rob MacKay
THIS is why I signed up! (Week #3)"The box modelling course was so much fun! My creative brain can now start making fun stuff. Other programs are fine for geometric and parametric, but I'm starting to see the power and flixibility of Blender. This feels so much more natural and intuitive to me."
Rob MacKay
5 out of 5 (Week #4)"Excellent! Can't say enough about the content, teaching style and speeding through the learning curve on getting started. I feel this is a rock solid foundation on which to build more skill and creativity. Thanks so much! "
Max @3DWithUs
(Read Full Review)
"I saw this course as a 4-week challenge, strictly following all the instructions step by step. To get the most of this training, students have to fulfill every task, including creating own designs and 3D printing them out. That's the only way to digest Blender in this crash course. Jason is very supportive and responsive, and great fun too!"
@3Dpimp
"This course was really easy and fun to do. It is supposed to show you the very basics of blender, but you learn it while actually making whole models with very useful tools. I really learned a lot, Blender interface can be a little overwhelming the first time you open it but thanks to this course I feel ready to explore and experiment with it by myself."
Jake Vrbka
"I've always been interested in lithopanes, but have never made one. I've seen the different lithopane generators online but it is really cool to be able to create my own! Thanks to this class I can now create and print my own lithopanes"
Vikki Baptiste
Practical, clear, easy-to-follow instructions"I dived into Blender knowing nothing, with no guidance, and fumbled around for a while. I'm so happy I was told about PTT and my only regret is that it took me so long to get around to taking this free course! I recommend it to anyone who is starting to use Blender, and - if you're a note-taker like me - make sure to write down all those shortcuts. They are so helpful! I now feel comfortable digging deeper into how to use Blender, and have signed up for the workshop."
Jake Vrbka
I would rate the Workshop 5 stars."My overall experience with the 4 week class was great. I learned so much in just 4 short weeks. Before the class I had only opened Blender once. Now I can design my own simple 3D prints. I can't wait to start the next lessons and become an even better designer."
Jake Vrbka
Awesome Introduction Course"Beginner 100 - Blender 2.9 is an awesome course. Jayson takes you through the steps of downloading Blender and setting up your workspace, and also shows you some of the basic functions so that you know your way around Blender."
Jason Preuss
I would rate the workshop a 4."Overall it was a very good experience. I think the workshop format is good, forcing you to use Blender a ton over a few weeks so it actually sinks in. Knowing other people are taking the class at the same time and everyone having their work shown also adds incentive (no one wants to be the one with the crappy model). The videos in general were good. As others have mentioned it was unfortunate that so much changed between 2.8 and 2.9, but it did cause me some frustration (and that was with me working ahead, I can imagine it was worse for those trying to get it done at the deadline). Depending on the timing I would probably sign up for an intermediate class."
Stan Morris
Overall workshop experience was quite positive."Between you and Amber, proactive actions were taken to verify and correct communication issues. I've studied using video training in the past and your class was successful in recreating the communication feeling of a live class where concerns were addressed immediately. Your consistently positive attitude is invigorating and helped me work through issues as I encountered them with the software. You accurately predicted actions that would destabilize Blender and made recommendations on how to avoid them preemptively. Your class was as good as any class I've had in college or in professional seminars. Regarding the choice of using Blender, this is my first foray into 3D printing and I am unsure what I might be missing with other software, but you showed me how to do everything I need with Blender and much more than I expected to be able to do; your class exceeded my expectations. I see no reason to use any other 3D design software and I feel like I will be able to make a more informed decision if I reach the limitations of Blender and decide to switch to another design platform. I'm glad that I didn't miss your course."
Kyle Heilig
5 out of 5 box-animals"You and Amber were great. The lessons were really easy to follow, and Amber's crazy designs made me want to push myself. 2. The experience was great and the other group members taught me a lot. The only semi-complaint I have is some lessons need to be updated (which I know you're doing). Thanks again Jwall"
Keith Park
Very cool overview"It's a lot of information to absorb in a short time frame, but it's all very helpful in understanding the Blender Environment."
Christopher Lyons
3D Print Workflow + 5 Effects (101) Review"Overall, I felt there was quite a bit covered in this course. In general it was presented well and I learned a lot. But I am a little concerned about how well I'll be able to remember all the details and whether it will come back to me when I need it later. I really wish the course had practice questions to work on that would allow students to work through the material in small steps to help drill it in. And these types of questions could build up, so as you gain more knowledge they draw on what you already should know so you are forced to execute the workflow repeatedly which is something I'm not sure I'm ready for yet. The other issue I'm struggling with is the homework assignments. We have 2 assignments in Week1, stated as Suzanne Remixes & Cheese Doorstop. I wish there was a stated textual definition of what was required for these. I've asked and the response I got was open-ended, so I'm going to just submit what I think is correct. I understand that it's supposed to be a somewhat creative exercise but we are just learning Blender and this is the first week, so I think this should have a bit more definition with a creative sidelight for those with the time & desire. Just my thoughts. Again, I'm learning quite a bit and enjoying the ride ... Thanks!!"
Christopher Lyons
Beginner 100 - Blender 2.9 Review"Overall, I thought the course material was quite good. There are a few things that could be better but I feel Jayson is listening and will make updates as needed. I definitely know he is quick to respond to questions both from the video discussion links and from Discord and that really helps. The biggest issue is Blender is just so complex and has so many options and ways to get things done and that increases the difficulty for those new to it. It definitely helps having good videos and someone with experience who can help answer questions when you get stuck."
Lana Shea
Wowzers!"Terrific lessons that meet all my criteria: broken into short and sweet segments, each step explained with multiple ways to approach, and can rewind to my heart's content. Super motivating- engaged my brain to think of creative projects that I want to attempt. And, Jayson's voice is SO easy to listen to!"
Garrett Kearney - Chaos Core Tech
3D Printing YouTuber"This course was extremely easy. Jayson says at the beginning that its pretty basic, but if you did the intro course you'll get this almost immediately. It's great how things are building on each other. "
Alejandro Canchola
" lot of content and information very well explained, easy to follow and learn. Great tricks for 3d printing i didnt know blender had."
Jonas @3DPrintingPrinter
Blender for total beginners!"The course really helped me, a person with no prior Blender experience, to get a grasp of Blender! What I especially like about this course are the fun & cute exercises, and that the keys our instructor presses are being displayed in the video."
@3Dprintingfuture
"It's literally a Fast Lane to Learning 3D Printing. No side tracking here.... straight to the point. You learn Everything from Design to the rules of 3D Printers."
Alex Parton @partonprints
Review Here"This course was extremely easy. Jayson says at the beginning that its pretty basic, but if you did the intro course you'll get this almost immediately. It's great how things are building on each other."
Sebastian Tanner
Off to a great start"I feel really comfortable with the basics of Blender. I love these courses! Jayson teaches you in small and understandable chunks. The discord community was really great when I did get stuck with some things. "
James G McNeill
"This is exactly the course I was looking for to answer the questions I had about 3D printing."
David Vetter
"J Wall is great and I am familiar with him from his YT videos. He is going fast, but I am keeping up."
Peter Scheler
"It's what the title promises. A Blender beginner course with the focus on 3D printing. If you have some experience with Blender, you will probably not be challenged here."
Kevin J Bourgault, PhD
Review Here"I find Blender a super technical program and there was a real push at times trying to keep up (i.e., drinking from a firehose). I did experience multiple technical difficulties throughout this course. However, these were not the direct fault of the instructor (more attributable to program limitations). More importantly , I thought the instructor did a very good job of communicating with me when I did have problems. Overall, I am more than satisfied with the course and think that with more practice and projects, that I might actually develop some proficiency with this program. I would recommend this course for intermediate computer users or those with some experience with graphic design."
Jonathan Sada
Finally I am feeling comfortable with Blender"I really liked this course. I really get more than what I was expecting. I enjoyed the lessons and participating in the Live Meetups. Jayson was super helpful and always happy to provide support and feedback. The weekly delivery empowered me to follow the course and learn many things in one month. I am ready for the next course :)"
Kamilla Andersson
"Good for a basic understandning, but I would like to learn more about choosing rafts, filling e t c. Also more about how to fix problems when inspecting and preparing for prints."
Arlene S Pietrzyk
"Yep, good match for my skill(less) blender level and presenter is energetic and engaging."
Steven Middagh
"A little basic with nuggets of useful info but thats to be expected for a beginner course."
Jerry E Shepherd
"so far but quite early to form a meaningful opinion."
Malcolm Irving
"so far but quite early to form a meaningful opinion."
Thomas Pagluica
"I'm sure the information is good but I'm constantly go back because it moves so quickly."
Hendrie Bosch
"For me it was hard to get up to steam. It is a steep learning curve especially if you're not a native English speaker. And my hardware isn't up to date so with objects with al lot of faces Blender tends to crash when checking for 3D-print. In the video's sometimes there's a switch or some parameters changed while the story continue's and it is not noticeable. This makes it sometimes hard to follow along and it takes a real good observatory to see what has happened. All in all; I'm glad i took this course to learn how to use Blender. Thanks! Hendrie"
Gerson Cervantes
Very good class."Your classes are really good. Taking the class #1 helped me to understand better how to use the 3d print tool box . I'm gonna give 5 starts to this class Thanks"
Ilias Ariston
Great intro to blender"gives good confidence in the different workflows and allows you to make your first attempts in 3d printing. "
Hubert Berg
Great course"I've been relatively new to 3D printing and had little experience in blender. This course is very well prepared and a great introduction."
Michael George Wiles
3D Print Workflow and 5 Effects (101) - a review from the UK"Well-paced learning schedule with good video accompanied by clear explanatory voiceovers. Whilst I understand the principles and logic of the workflow, the 'proof of the pudding' is how quickly I can master the Blender shortcuts. For an 'oldster' like myself, an accompanying step-by-step text would be a welcome addition. Thank you!"
Maurizio Montefiori
comparing with FreeCAD"Well this training is really useful and helped me both to start with the basics and comparing the Blender philosophy to the FreeCAD one. Before judging, I want to proceed with Blender for more lessons. "
Michael Brewer
Box Modelling - Box Animals"Awesome, learning so much each time I take a course! I can honestly feel that my Blender muscle memory is expanding."
Marko de Jager
Lot easier than it looks"Another clear instruction in using Blender and its magic collection of tools to create a cute animal from just a simple cube as starting point. Easy to follow along - printing now ..."
David Crispin
Great intro as to what can be done with a photograph"Easy to follow, clear and well presented."
David Crispin
Great overview of the basics!"I found the pace perfect and the information flow just right for my learning speed."
Jane Epperson
Beginner 101- 3D Print Workflow"Thanks so much for this great introduction to 3D printing with Blender. This into course is a great way to understand the basic skills needed to design and analyse a model to be printed. I took the course because though I was familiar with Blender, I wanted to understand the 3D print tab and the use of the boolean tools. This class was very helpful and I look forward to continued learning with Print That Thing!"
Paul Bennett
Well done"Great lessons guided my initial understanding of Blender a very complicated program"
lab rat
Thanks Jay solid training"Really grateful for this training you pro teaching skills at a level people can understand amazing ;)"
Arnaldo Braun
OK. Basic introduction."Text compatible with the objective of this step."
Michael Brewer
Excellent intro to Blender 2.8"Will go through this course a couple more times as there were bits/sections (towards the end) that were a bit tough to keep up with. Excellent overview of the basic features of Blender that taught me what this software is capable of."
Giorgio Leoncini
Good Intro into blender!"The videos were short and simple to understand the basics tools used in blender."
Sebastian Tanner
Great for your first time with blender"I never used Blender before and this is a great course to get started. I feel really comfortable with everything that was taught and Jayson is great at responding to questions and feedback!"
Ricky Schintler
loving it so far!"I have been 3D printing for over a year now wanting to dive into design, you've made it helpful, concise and accessible. looking forward to the rest of the course!"
OLar Maksin
Blender 100"Very thorough without going into too much detail as an intro to Blender this was well done."
Sandra Keller
thanks"Had a hard time at first because it appeared my defaults were set different, even though I downloaded the setup file. I believe it's just too easy to click on and item that really changes things. Figuring out what happened will help me remember. I know it's really hard to describe what you are doing and how to get to some of the menus. Pretty intimidating software with all the menus and capabilities. Great job leading us through. Even though I had to pause and rewind quite a bit to keep up. I wrote down many of the shortcuts you were teaching, but is there a reference card anywhere? thanks again. I will keep at it. FYI, not quite sure how the stars are supposed to be filled in but my intent is to give it 5 stars."
Eric Bisaillon
Great stuff"Just completed the Beginner 100 - Blender 2.9 and I have nothing but good things to say about it. As a whole, I was pretty overwhelmed with the Blender UI at first but the break-down approach of the different UI elements, panels and tools made it all pretty clear. Recommended!"
Andrew Stowell
Good intro!"Really helpful to get the hang of using Blender for anyone that has never used it before. Very easy to follow along!
Amber Wilkinson
Beginner 100 was a great overview"Great overview of the user interface. You might not know how to design after this course, but it definitely sets you comfortable with the daunting Blender layout. I'm pumped for more!"
steven newell
completed the first lesson!"easy and straight forward, was guided step by step with simple to follow directions. excellent teacher with a great voice!"
Michael George Wiles
Intro to Blender"A lot of ground covered and a lot of practice needed. Good clear instruction. Thank you!"
Barrett J Johnson
Was a lot of fun, ready to learn more"I have only had my 3D Printer 4 months and the more I learn the more things I want to do with my printer and this course is just what I was looking for! So excited to start making things! 5A+"
Terms of Service
Last Updated: 3/1/2021.PLEASE READ THE FOLLOWING TERMS OF SERVICE AGREEMENT CAREFULLY. BY ACCESSING OR USING OUR WEBSITE (THE "SITE") OR OUR SERVICES, YOU HEREBY AGREE TO BE BOUND BY THESE TERMS AND CONDITIONS AND ALL TERMS INCORPORATED HEREIN BY REFERENCE. IT IS THE RESPONSIBILITY OF YOU, THE USER, CUSTOMER, OR PROSPECTIVE CUSTOMER TO READ THE TERMS AND CONDITIONS BEFORE PROCEEDING TO USE THIS SITE. IF YOU DO NOT EXPRESSLY AGREE TO ALL OF THE TERMS AND CONDITIONS, THEN PLEASE DO NOT ACCESS OR USE OUR SITE OR OUR SERVICES.The present terms and conditions (this "Agreement" or "Terms") is a legal agreement between you and PTT.live (Print That Thing) / Indie Mutt LLC (hereinafter " Indie Mutt LLC"), a company duly organized and validly existing, located at 5133 Harding Pike Ste B10 # 285, Nashville, Tennessee 37205. This Agreement annuls and voids all previous agreements.OVERVIEWThe Site (PTT.live & printthatthing.us) is operated by Indie Mutt LLC. Throughout the Site, the terms "we", "us" and "our" refer to Indie Mutt LLC. Indie Mutt LLC offers this Site, including all information, tools and services available from this Site to you, the user, conditioned upon your acceptance of all terms, conditions, policies and notices stated here.By visiting our Site and/or purchasing something from us, you engage in our "Service" and agree to be bound by the following terms and conditions, including those additional terms and conditions and policies referenced herein and/or available by hyperlink. These Terms apply to all users of the Site, including without limitation users who are browsers, vendors, customers, merchants, and/or contributors of content. In the event of an inconsistency between this Agreement and any additional terms or policies referenced herein, the provisions of the additional terms or policies shall control.Please read these Terms carefully before accessing or using our Site. By accessing or using any part of the Site, you agree to be bound by these Terms. If you do not agree to all the Terms of this Agreement, then you may not access the Site or use any Service. If these Terms are considered an offer, acceptance is expressly limited to these Terms.Any new features or tools which are added to the current store shall also be subject to the Terms. You can review the most current version of the Terms at any time on this page. We reserve the right to update, change or replace any part of these Terms by posting updates and/or changes to our Site. It is your responsibility to check this page periodically for changes. Your continued use of or access to the Site following the posting of any changes constitutes acceptance of those changes.SECTION 1 - GENERAL TERMSBy agreeing to these Terms, you represent that you are at least the age of majority in your state or province of residence, or that you are the age of majority in your state or province of residence and you have given us your consent to allow any of your minor dependents to use this Site.You may not use our products or Site for any illegal or unauthorized purpose nor may you, in the use of our products or Site, violate any laws in your jurisdiction (including but not limited to motor vehicle laws).You must not transmit any worms or viruses or any code of a destructive nature.A breach or violation of any of the Terms will result in an immediate termination of your account and right to use our Service.We have the right, but not the obligation, to take any of the following actions in our sole discretion at any time and for any reason without giving you any prior notice:1. Restrict, suspend or terminate your access to all or any part of our Site; 2. Change, suspend or discontinue all or any part of our products or Site;3. Refuse, move, or remove any content that is available on all or any part of our Site; 4. Deactivate or delete your accounts;5. Establish general practices and limits concerning use of our Site.You agree that we will not be liable to you or any third party for taking any of these actions.You understand and agree that our Site may include communications such as service announcements and administrative or legal notices from us. Please note that you cannot opt out of receiving these notices.You understand that your content (not including credit card information), may be transferred unencrypted and involve (a) transmissions over various networks; and (b) changes to conform and adapt to technical requirements of connecting networks or devices. Credit card information is always encrypted during transfer over networks.You agree not to reproduce, duplicate, copy, sell, resell or exploit any portion of the Site, use of the Site, or access to the Site or any contact on the Site, without express written permission by us.You may not modify, publish, transmit, reverse engineer, participate in the transfer or sale, create derivative works, or in any way exploit any of the content, in whole or in part, found on the Site. Indie Mutt LLCcontent is not for resale. Use of the Site does not entitle users to make any unauthorized use of any protected content, and in particular you will not delete or alter any proprietary rights or attribution notices in any content. You will use protected content solely for your personal use, and will make no other use of the content without the express written permission of Indie Mutt LLC and the copyright owner. You agree that you do not acquire any ownership rights in any protected content. We do not grant you any licenses, express or implied, to the intellectual property of Indie Mutt LLC or our licensors except as expressly authorized by these Terms.SECTION 2 - CREATING AN ACCOUNTOnce you create an account with us, you are registered on the Indie Mutt LLC Site. The terms "member," "membership," and "account" all refer to this registration as a member on PTT.live an Indie Mutt LLC Site. If you are merely surfing or browsing through the Site and have not yet created an account, your use of the Site is still subject to this Agreement; if you do not agree to this Agreement, do not use the Site.When you create an account, you will provide a unique username and email. We will also ask you to create a password. Because any activities that occur under your username or password are your responsibility it is important for you to keep your username and/or password secure. You may not assign or otherwise transfer your account to any other person or entity. You acknowledge that Indie Mutt LLC is not responsible for third party access to your account that results from theft or misappropriation of your account. Notify us immediately if you believe that someone has used your username, email, or password without your authorization.Furthermore, the registering party hereby acknowledges, understands and agrees to:a) furnish factual, correct, current and complete information with regards to yourself as may be requested by the data registration process, andb) maintain and promptly update your registration and profile information in an effort to maintain accuracy and completeness at all times.If anyone knowingly provides any information of a false, untrue, inaccurate or incomplete nature, Indie Mutt LLC will have sufficient grounds and rights to suspend or terminate the member in violation of this aspect of the Agreement, and as such refuse any and all current or future use of Indie Mutt LLC Services, or any portion thereof.SECTION 3 - CONDUCTAs a user or member of the Site, you herein acknowledge, understand and agree that all information, text, software, data, photographs, music, video, messages, tags or any other content, whether it is publicly or privately posted and/or transmitted, is the expressed sole responsibility of the individual from whom the content originated. In short, this means that you are solely responsible for any and all content posted, uploaded, emailed, transmitted or otherwise made available by way of the Indie Mutt LLC Services, and as such, we do not guarantee the accuracy, integrity or quality of such content. It is expressly understood that by use of our Services, you may be exposed to content including, but not limited to, any errors or omissions in any content posted, and/or any loss or damage of any kind incurred as a result of the use of any content posted, emailed, transmitted or otherwise made available by Indie Mutt LLC.Furthermore, you herein agree not to make use of Indie Mutt LLC's Services for the purpose of:a) uploading, posting, emailing, transmitting, or otherwise making available any content that shall be deemed unlawful, harmful, threatening, abusive, harassing, tortious,defamatory, vulgar, obscene, libelous, or invasive of another's privacy or which is hateful, and/or racially, ethnically, or otherwise objectionable;b) causing harm to minors in any manner whatsoever;c) impersonating any individual or entity, including, but not limited to, any Indie Mutt LLC officials, forum leaders, guides or hosts or falsely stating or otherwise misrepresenting any affiliation with an individual or entity;d) forging captions, headings or titles or otherwise offering any content that you personally have no right to pursuant to any law nor having any contractual or fiduciary relationship with;e) uploading, posting, emailing, transmitting or otherwise offering any such content that may infringe upon any patent, copyright, trademark, or any other proprietary or intellectual rights of any other party;f) uploading, posting, emailing, transmitting or otherwise offering any content that you do not personally have any right to offer pursuant to any law or in accordance with any contractual or fiduciary relationship;g) uploading, posting, emailing, transmitting, or otherwise offering any unsolicited or unauthorized advertising, promotional flyers, "junk mail," "spam," or any other form of solicitation, except in any such areas that may have been designated for such purpose;h) uploading, posting, emailing, transmitting, or otherwise offering any source that may contain a software virus or other computer code, any files and/or programs which have been designed to interfere, destroy and/or limit the operation of any computer software, hardware, or telecommunication equipment;i) disrupting the normal flow of communication, or otherwise acting in any manner that would negatively affect other users' ability to participate in any real time interactions;j) interfering with or disrupting any Indie Mutt LLC Services, servers and/or networks that may be connected or related to our website, including, but not limited to, the use of any device software and/or routine to bypass the robot exclusion headers;k) intentionally or unintentionally violating any local, state, federal, national or international law, including, but not limited to, rules, guidelines, and/or regulations decreed by the U.S. Securities and Exchange Commission, in addition to any rules of any nation or other securities exchange, that would include without limitation, the New York Stock Exchange, the American Stock Exchange, or the NASDAQ, and any regulations having the force of law;l) providing informational support or resources, concealing and/or disguising the character, location, and or source to any organization delegated by the United States government as a "foreign terrorist organization" in accordance to Section 219 of the Immigration Nationality Act;m) "stalking" or with the intent to otherwise harass another individual; and/orn) collecting or storing of any personal data relating to any other member or user in connection with the prohibited conduct and/or activities which have been set forth in the aforementioned paragraphs.Indie Mutt LLC herein reserves the right to pre-screen, refuse and/or delete any content currently available through our Services. In addition, we reserve the right to remove and/or delete any such content that would violate the Terms or which would otherwise be considered offensive to other visitors, users and/or members.Indie Mutt LLC herein reserves the right to access, preserve and/or disclose member account information and/or content if it is requested to do so by law or in good faith belief that any such action is deemed reasonably necessary for:a) compliance with any legal process;b) enforcement of the Terms;c) responding to any claim that therein contained content is in violation of the rights of any third party;d) responding to requests for customer service; ore) protecting the rights, property or the personal safety of Indie Mutt LLC, its visitors, users and members, including the general public.Indie Mutt LLC herein reserves the right to include the use of security components that may permit digital information or material to be protected, and that such use of information and/or material is subject to usage guidelines and regulations established by Indie Mutt LLC or any other content providers supplying content services to Indie Mutt LLC. You are hereby prohibited from making any attempt to override or circumvent any of the embedded usage rules in our Services. Furthermore, unauthorized reproduction, publication, distribution, or exhibition of any information or materials supplied by our Services, despite whether done so in whole or in part, is expressly prohibited.SECTION 4 - GLOBAL USE; EXPORT/IMPORT COMPLIANCEDue to the global nature of the internet, through the use of our network you hereby agree to comply with all local rules relating to online conduct and that which is considered acceptable content. Uploading, posting and/or transferring of software, technology and other technical data may be subject to the export and import laws of the United States and possibly other countries. Through the use of our network, you thus agree to comply with all applicable export and import laws, statutes and regulations, including, but not limited to, the Export Administration Regulations (http://www.access.gpo.gov/bis/ear/ear_data.html), as well as the sanctions control program of the United States (http://www.treasury.gov/resource center/sanctions/Programs/Pages/Programs.aspx). Furthermore, you state and pledge that you:a) are not on the list of prohibited individuals which may be identified on any government export exclusion report (http://www.bis.doc.gov/complianceandenforcement/liststocheck.htm) nor a member of any other government which may be part of an export-prohibited country identified in applicable export and import laws and regulations;b) agree not to transfer any software, technology or any other technical data through the use of our network Services to any export-prohibited country;c) agree not to use our website network Services for any military, nuclear, missile, chemical or biological weaponry end uses that would be a violation of the U.S. export laws; andd) agree not to post, transfer nor upload any software, technology or any other technical data which would be in violation of the U.S. or other applicable export and/or import laws.SECTION 5 - SUBMITTED CONTENTIndie Mutt LLC shall not lay claim to ownership of any content submitted by any visitor, member, or user, nor make such content available for inclusion on our website Services. Therefore, you hereby grant and allow for Indie Mutt LLC the below listed worldwide, royalty-free and non exclusive licenses, as applicable:a) The content submitted or made available for inclusion on the publicly accessible areas o f Indie Mutt LLC's Sites, the license provided to permit to use, distribute, reproduce, modify, adapt, publicly perform and/or publicly display said Content on our network Services is for the sole purpose of providing and promoting the specific area to which this content was placed and/or made available for viewing. This license shall be available so long as you are a member of Indie Mutt LLC's sites, and shall terminate at such time when you elect to discontinue your membership.b) Photos, audio, video and/or graphics submitted or made available for inclusion on the publicly accessible areas of Indie Mutt LLC's sites, the license provided to permit to use, distribute, reproduce, modify, adapt, publicly perform and/or publicly display said C
Online Privacy Policy Agreement
Last Updated: March 1, 2021PTT.live/Print That Thing (operated by Indie Mutt LLC) how we collect and use personal information from those who visit our website or make use of our online facilities and services, and what we will and will not do with the information we collect. Our Policy has been designed and created to ensure those affiliated with PTT.live of our commitment and realization of our obligation not only to meet, but to exceed, most existing privacy standards.We reserve the right to make changes to this Policy at any given time. If you want to make sure that you are up to date with the latest changes, we advise you to frequently visit this page. If at any point in time PTT.live decides to make use of any personally identifiable information on file, in a manner vastly different from that which was stated when this information was initially collected, the user or users shall be promptly notified by email. Users at that time shall have the option as to whether to permit the use of their information in this separate manner.This Policy applies to PTT.live, and it governs any and all data collection and usage by us. Through the use of PTT.live, you are therefore consenting to the data collection procedures expressed in this Policy.Please note that this Policy does not govern the collection and use of information by companies that PTT.livedoes not control, nor by individuals not employed or managed by us. If you visit a website that we mention or link to, be sure to review its privacy policy before providing the site with information. It is highly recommended and suggested that you review the privacy policies and statements of any website you choose to use or frequent to better understand the way in which websites garner, make use of and share the information collected.Specifically, this Policy will inform you of the following1. What personally identifiable information is collected from you through our website;2. Why we collect personally identifiable information and the legal basis for such collection;3. How we use the collected information and with whom it may be shared;4. What choices are available to you regarding the use of your data; and5. The security procedures in place to protect the misuse of your information.Information We CollectIt is always up to you whether to disclose personally identifiable information to us, although if you elect not to do so, we reserve the right not to register you as a user or provide you with any products or services. This website collects various types of information, such as:· Voluntarily provided information which may include your name, address, email address, billing and/or credit card information etc. which may be used when you purchase products and/or services and to deliver the services you have requested.· Information automatically collected when visiting our website, which may include cookies, third party tracking technologies and server logs.In addition, PTT.live may have the occasion to collect non-personal anonymous demographic information, such as age, gender, household income, political affiliation, race and religion, as well as the type of browser you are using, IP address, or type of operating system, which will assist us in providing and maintaining superior quality service.PTT.livemay also deem it necessary, from time to time, to follow websites that our users may frequent to gleam what types of services and products may be the most popular to customers or the general public.Please rest assured that this site will only collect personal information that you knowingly and willingly provide to us by way of surveys, completed membership forms, and emails. It is the intent of this site to use personal information only for the purpose for which it was requested, and any additional uses specifically provided for on this Policy.Why We Collect Information and For How LongWe are collecting your data for several reasons:· To better understand your needs and provide you with the services you have requested; · To fulfill our legitimate interest in improving our services and products; · To send you promotional emails containing information we think you may like when we have your consent to do so;· To contact you to fill out surveys or participate in other types of market research, when we have your consent to do so;· To customize our website according to your online behavior and personal preferences.The data we collect from you will be stored for no longer than necessary. The length of time we retain said information will be determined based upon the following criteria: the length of time your personal information remains relevant; the length of time it is reasonable to keep records to demonstrate that we have fulfilled our duties and obligations; any limitation periods within which claims might be made; any retention periods prescribed by law or recommended by regulators, professional bodies or associations; the type of contract we have with you, the existence of your consent, and our legitimate interest in keeping such information as stated in this Policy.Use of Information CollectedPTT.live does not now, nor will it in the future, sell, rent or lease any of its customer lists and/or names to any third parties.PTT.live may collect and may make use of personal information to assist in the operation of our website and to ensure delivery of the services you need and request. At times, we may find it necessary to use personally identifiable information as a means to keep you informed of other possible products and/or services that may be available to you from PTT.livePTT.live may also be in contact with you with regards to completing surveys and/or research questionnaires related to your opinion of current or potential future services that may be offered.PTT.liveuses various third-party social media features including but not limited to Facebook, Twitter, Instagram, Youtube and other interactive programs. These may collect your IP address and require cookies to work properly. These services are governed by the privacy policies of the providers and are not within PTT.live's control.Disclosure of InformationPTT.live may not use or disclose the information provided by you except under the following circumstances:· as necessary to provide services or products you have ordered;· in other ways described in this Policy or to which you have otherwise consented; · in the aggregate with other information in such a way so that your identity cannot reasonably be determined;· as required by law, or in response to a subpoena or search warrant;· to outside auditors who have agreed to keep the information confidential; · as necessary to enforce the Terms of Service;· as necessary to maintain, safeguard and preserve all the rights and property of PTT.live.Non-Marketing PurposesPTT.live greatly respects your privacy. We do maintain and reserve the right to contact you if needed for non-marketing purposes (such as bug alerts, security breaches, account issues, and/or changes in PTT.live products and services). In certain circumstances, we may use our website, newspapers, or other public means to post a notice.Children under the age of 18We do not recommend anyone under the age of 18 years old be on our site as the content in public areas (communities & discord) may not be suitable for children.PTT.live's website is not directed to, and does not knowingly collect personal identifiable information from, children under the age of eighteen (18). If it is determined that such information has been inadvertently collected on anyone under the age of eighteen (18), we shall immediately take the necessary steps to ensure that such information is deleted from our system's database, or in the alternative, that verifiable parental consent is obtained for the use and storage of such information. Anyone under the age of eighteen (18) must seek and obtain parent or guardian permission to use this website.Unsubscribe or Opt-OutAll users and visitors to our website have the option to discontinue receiving communications from us by way of email or newsletters. To discontinue or unsubscribe from our website please send an email that you wish to unsubscribe to hello@ptt.live. If you wish to unsubscribe or opt-out from any third-party websites, you must go to that specific website to unsubscribe or opt out. PTT.live will continue to adhere to this Policy with respect to any personal information previously collected.Links to Other WebsitesOur website does contain links to affiliate and other websites. PTT.live does not claim nor accept responsibility for any privacy policies, practices and/or procedures of other such websites. Therefore, we encourage all users and visitors to be aware when they leave our website and to read the privacy statements of every website that collects personally identifiable information. This Privacy Policy Agreement applies only and solely to the information collected by our website.Notice to European Union UsersPTT.live's operations are located primarily in the United States. If you provide information to us, the information will be transferred out of the European Union (EU) and sent to the United States. (The adequacy decision on the EU-US Privacy became operational on August 1, 2016. This framework protects the fundamental rights of anyone in the EU whose personal data is transferred to the United States for commercial purposes. It allows the free transfer of data to companies that are certified in the US under the Privacy Shield.) By providing personal information to us, you are consenting to its storage and use as described in this Policy.Your Rights as a Data SubjectUnder the regulations of the General Data Protection Regulation ("GDPR") of the EU you have certain rights as a Data Subject. These rights are as follows:· The right to be informed: this means we must inform you of how we intend to use your personal data and we do this through the terms of this Policy.· The right of access: this means you have the right to request access to the data we hold about you and we must respond to those requests within one month. You can do this by sending an email to hello@ptt.live.· The right to rectification: this means that if you believe some of the date, we hold isincorrect, you have the right to have it corrected. You can do this by logging into your account with us, or by sending us an email with your request.· The right to erasure: this means you can request that the information we hold be deleted, and we will comply unless we have a compelling reason not to, in which case you will be informed of same. You can do this by sending an email to hello@ptt.live.· The right to restrict processing: this means you can change your communication preferences or opt-out of certain communications. You can do this by sending an email to hello@ptt.live.· The right of data portability: this means you can obtain and use the data we hold for your own purposes without explanation. If you wish to request a copy of your information, contact us at hello@ptt.live.· The right to object: this means you can file a formal objection with us regarding our use of your information with regard to third parties, or its processing where our legal basis is our legitimate interest in it. To do this, please send an email to hello@ptt.live.In addition to the rights above, please rest assured that we will always aim to encrypt and anonymize your personal information whenever possible. We also have protocols in place in the unlikely event that we suffer a data breach and we will contact you if your personal information is ever at risk. For more details regarding our security protections see the section below or visit our website at PTT.live.SecurityPTT.live takes precautions to protect your information. When you submit sensitive information via the website, your information is protected both online and offline. Wherever we collect sensitive information (e.g. credit card information), that information is encrypted and transmitted to us in a secure way. You can verify this by looking for a lock icon in the address bar and looking for "https" at the beginning of the address of the webpage.While we use encryption to protect sensitive information transmitted online, we also protect your information offline. Only employees who need the information to perform a specific job (for example, billing or customer service) are granted access to personally identifiable information. The computers and servers in which we store personally identifiable information are kept in a secure environment. This is all done to prevent any loss, misuse, unauthorized access, disclosure or modification of the user's personal information under our control.The company also uses Secure Socket Layer (SSL) for authentication and private communications to build users' trust and confidence in the internet and website use by providing simple and secure access and communication of credit card and personal information.Acceptance of TermsBy using this website, you are hereby accepting the terms and conditions stipulated within thePrivacy Policy Agreement. If you are not in agreement with our terms and conditions, then you should refrain from further use of our sites. In addition, your continued use of our website following the posting of any updates or changes to our terms and conditions shall mean that you agree and acceptance of such changes.How to Contact UsIf you have any questions or concerns regarding the Privacy Policy Agreement related to our website, please feel free to contact us at the following email, telephone number or mailing address.Email: hello@ptt.liveTelephone Number: 615.630.3258Mailing Address:PTT.live / Indie Mutt LLC5133 Harding Pike Ste B10 # 285Nashville, Tennessee37205The data controller responsible for your personal information for the purposes of GDPR compliance is:Amber R Wilkinsonamber@indiemutt.com61563032585133 Harding Pike, STE B10 #285GDPR Disclosure:If you answered "yes" to the question Does your website comply with the General Data Protection Regulation ("GDPR")? then the Privacy Policy above includes language that is meant to account for such compliance. Nevertheless, in order to be fully compliant with GDPR regulations your company must fulfill other requirements such as: (i) doing an assessment of data processing activities to improve security; (ii) have a data processing agreement with any third party vendors; (iii) appoint a data protection officer for the company to monitor GDPR compliance; (iv) designate a representative based in the EU under certain circumstances; and (v) have a protocol in place to handle a potential data breach. For more details on how to make sure your company is fully compliant with GDPR, please visit the official website at https://gdpr.eu. FormSwift and its subsidiaries are in no way responsible for determining whether or not your company is in fact compliant with GDPR and takes no responsibility for the use you make of this Privacy Policy or for any potential liability your company may face in relation to any GDPR compliance issues.COPPA Compliance Disclosure:This Privacy Policy presumes that your website is not directed at children under the age of 13 and does not knowingly collect personal identifiable information from them or allow others to do the same through your site. If this is not true for your website or online service and you do collect such information (or allow others to do so), please be aware that you must be compliant with all COPPA regulations and guidelines in order to avoid violations which could lead to law enforcement actions, including civil penalties.In order to be fully compliant with COPPA your website or online service must fulfill other requirements such as: (i) posting a privacy policy which describes not only your practices, but also the practices of any others collecting personal information on your site or service — for example, plug-ins or ad networks; (ii) include a prominent link to your privacy policy anywhere you collect personal information from children; (iii) include a desc